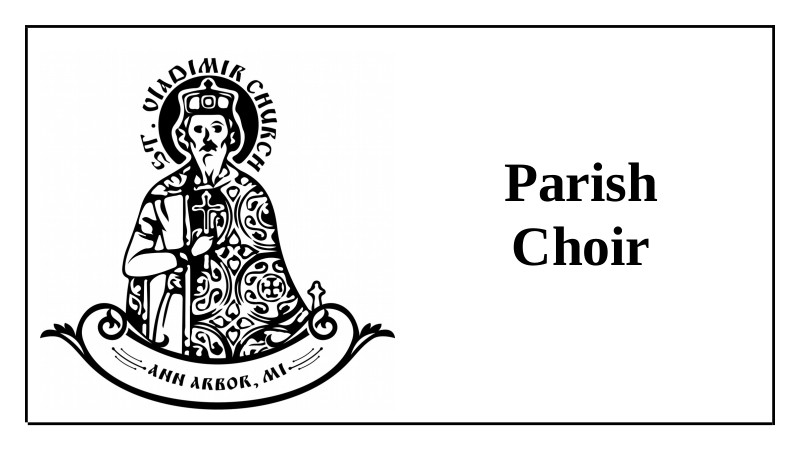 If you are interested in joining our choir, please contact our Choir Director, Julia Easson at info@stvladimiraami.org.

Festal Choir Director: Julia Easson
Weekday Choir Director: Katherine Mihaliov
Vigil Choir Director: Ken (Peter) Doll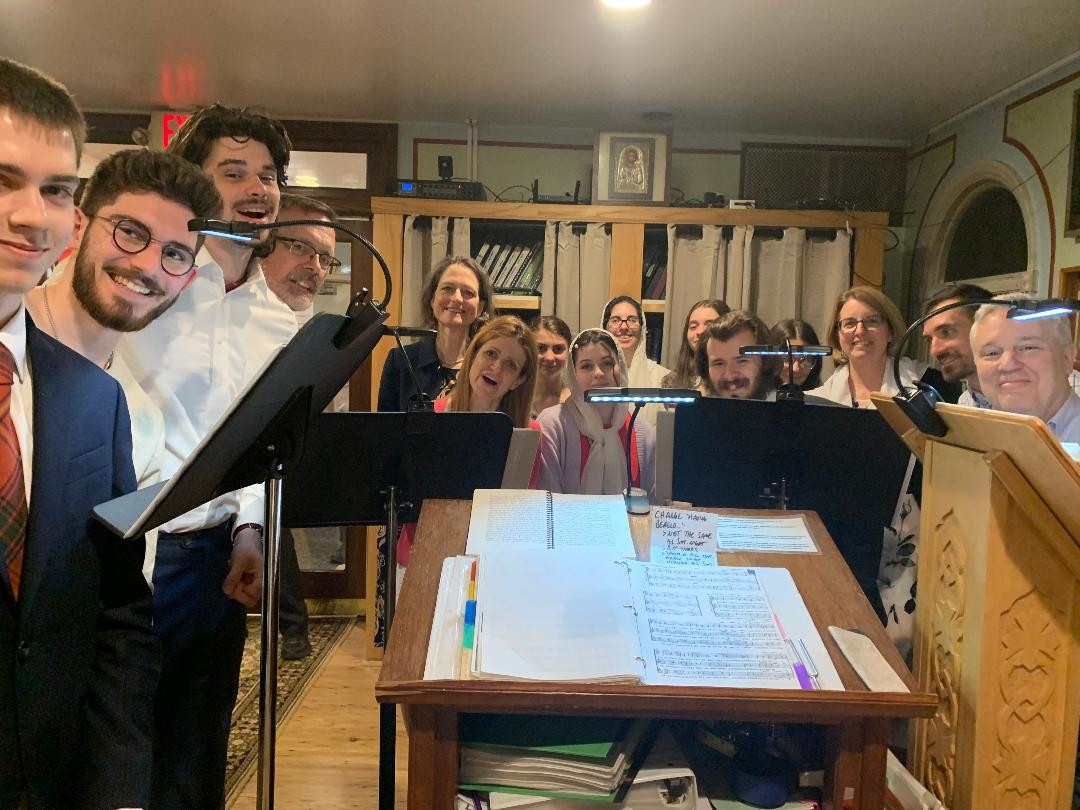 VIGIL LANGUAGE SCHEMA
LITURGY LANGUAGE SCHEMA
INSTRUCTIONS FOR READERS @ STV
WEEKDAY VESPERS - SIMPLE, DOUBLE, SIX STICHERA, DOXOLOGY
WEEKDAY VESPERS - POLYELEOS
WEEKDAY MATINS - SIMPLE
WEEKDAY MATINS - DOUBLE
WEEKDAY MATINS - SIX STICHERA
WEEKDAY MATINS - DOXOLOGY
WEEKDAY MATINS - POLYELEOS
WEEKDAY VIGIL
WEEKDAY LITURGY
MONDAY TROPARION (ANGELS)
MONDAY KONTAKION (ANGELS)
TUESDAY TROPARION (ST. JOHN THE BAPTIST)
TUESDAY KONTAKION (ST. JOHN THE BAPTIST)
WEDNESDAY & FRIDAY TROPARION (CROSS)
WEDNESDAY & FRIDAY KONTAKION (CROSS)
THURSDAY TROPARION (APOSTLES)
THURSDAY KONTAKION (APOSTLES)
THURSDAY TROPARION (ST. NICHOLAS)
THURSDAY KONTAKION (ST. NICHOLAS)
SATURDAY TROPARION (ALL SAINTS)
SATURDAY TROPARION (DEPARTED)
SATURDAY KONTAKION (DEPARTED)
SATURDAY KONTAKION (MARTYRS)
SATURDAY PROMIMENA (DEPARTED)
"O PROTECTION OF CHRISTIANS..." SIMPLE
ST. VLADIMIR TROPARION SIMPLE
ST. VLADIMIR KONTAKION SIMPLE
GREAT LENT WEEKDAY LITYA ENDING
CHEAT SHEET: THOMAS SUNDAY TO ASCENSION
===
Concerning prayer in church, know that it is higher than prayers at home, for it is raised by a whole group of people, among which many are most pure prayers, offered to God from humble hearts, which He accepts as fragrant incense.
Venerable Macarius of Optina
Living without Hypocrisy
===
One should go to the morning services, because during the Divine Liturgy the Bloodless Sacrifice is offered to God on our behalf. By attending the morning services in turn offer ourselves as a sacrifice to the Lord: we sacrifice our rest for Him.
Venerable Moses of Optina
Living without Hypocrisy
VISIT OUR OLD CHOIR PAGE