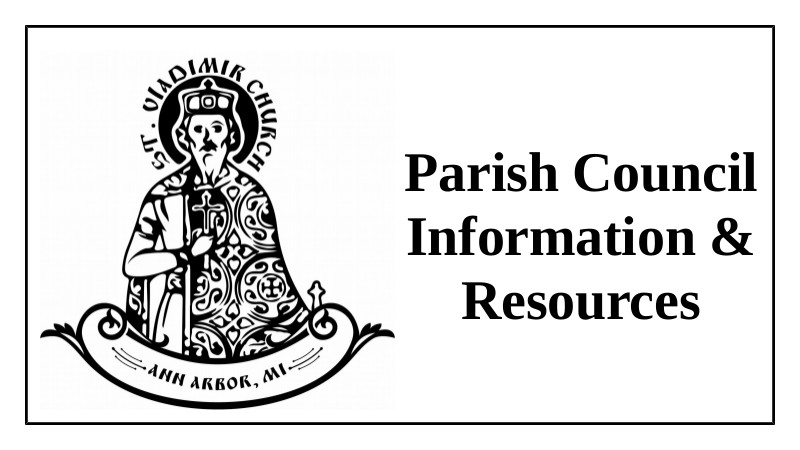 Parish Council meetings are scheduled for the following dates for the 2020-21 year:
3/29/20 STV
4/26/20 CC
5/28/20 CC
6/28/20 STV
7/26/20 STV
8/30/20 STV
9/27/20 STV
10/25/20 STV
11/22/20 STV
12/27/20 STV
1/24/21 STV
2/14/20 STV
3/7/21 AM
STV = at St. Vladimir's (after the weekly parish meal)
CC = Conference Call (generally evenings, but these times can vary - contact Fr. Gregory or Jack for exact details)
AM = Annual Meeting
St. Vladimir's Parish Family members are welcome to attend these meetings or to discuss issues they deem important with Fr. Gregory, Jack, or any Parish Council member. Deviations from this schedule are posted on the St. Vladimir home page in the "Announcements" section.
Those who would like to review Parish Council minutes are asked to contact Fr. Gregory or Jack. Minutes may be reviewed by any St. Vladimir parish member.
2020-21 Parish Council Members
Priest Gregory Joyce, Rector
Starosta: Jack (Alexey) Mitchell (1st year of 3-year term)
Treasurer: Mikhail Fisenkov
Secretary: Lauren (Maria) Rogers
Parish Council Trustees:
Marina Edwards
Dimitry Knysh
Igor Obertas
Natalia Veniaminova
2020-21 Auditing Committee:
Deacon Vladimir Pyrozhenko
Reader Colin Bower
Michael Marsh
Additional information regarding the Parish Council is below.
Normal Parish Bylaws
Organizational Chart - Normal Parish Bylaws
Rights and Duties of Parish Rectors
Instructions to Church Wardens
Sisterhood Statutes
Brotherhood Statutes