3/10/18, 12:00 PM
Posted by Fr. Gregory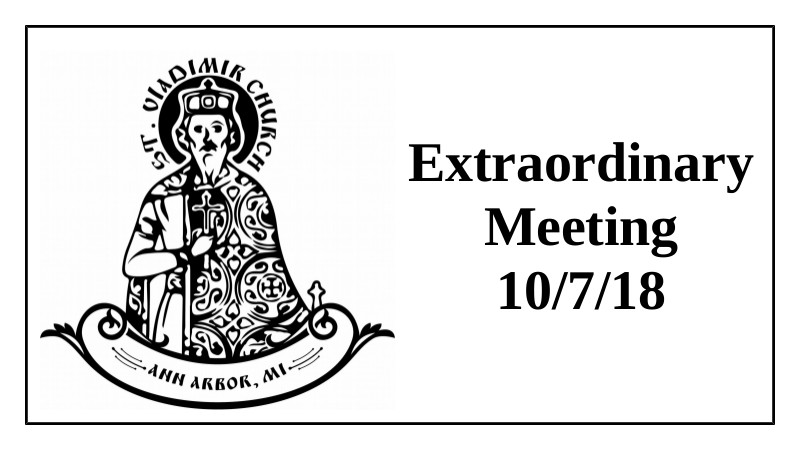 On Sunday, August 26, 2018 we held an extraordinary parish meeting at which the Parish Council was given a charge to secure pledges of $1,200/month for 5 years OR collect $70,000 by September 23 to begin construction of our parish day school. We didn't quite get there – but we are close. And we have a lot of fund raising momentum. So at our Parish Council meeting on September 30, 2018 the council voted to call a special meeting on Sunday, October 7, 2018. Archbishop Peter has blessed us to hold this meeting. At this meeting the Parish Council will present a proposal, which was approved at the September 30 meeting, to begin building now. At this point, with the funds and pledges we have raised, we can accomplish a huge chunk of the project. And given the fund raising momentum, we have great hope that by the time we finish the part that the funds already raised will allow us to complete, the rest of the funds will have been raised and we can finish the project on time. But we need your support to do it! So please plan to join us at the meeting this Sunday. More information can be found here:
http://www.stvladimiraami.org/flyers/ex ... -07-18.pdf
If you'd like to help us get even closer to our $1200/month goal please visit this link (or contact me - you can only give using a credit card at this link and we understand that doesn't work for everyone):
https://stvladimiraami.networkforgood.com/projects/57396-ann-arbor-orthodox-classical-academy
Please contact me or any Parish Council member with questions.
In Christ,
Fr. Gregory

view entry
( 1213 views )