5/6/20, 06:00 PM
Posted by Fr. Gregory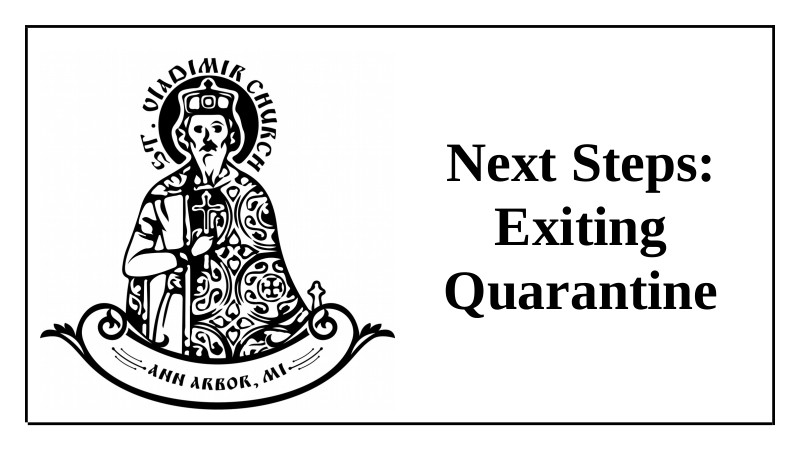 As of Monday, June 1, the Michigan Stay at Home Order has been lifted. It is now possible for up to 100 people to gather, maintaining 6-foot distance, outside. Therefore, the late Divine Liturgy on Sundays will be held outside starting with Sunday, June 7. Mask are strongly recommended. Everyone household must maintain a 6-foot distance from every other household. Parish Council members will be available to help for those who have questions. Hands should be washed/sanitized at arrival, departure, and as needed on site.
Divine Services during the week will follow a new rule beginning on June 8. Each of the 18 physically spaced spots can be occupied by up to two people from the same household. Masks will continue to be required for the Divine Services inside the church. The sign up sheet for Monday, June 8 and going forward has been updated to reflect these changes. We appreciate your patience as we work out these new guidelines and how these apply to our parish. Except for the changes noted here we are still following our Quarantine Exit Plan. This can be found at the sign up sheet for this week (the sign up sheet has been modified to reflect the new plan for services inside the church):
SIGN UP FOR DIVINE SERVICES WEEK OF 5-31-20
Or the sign up sheet for next week:
SIGN UP FOR DIVINE SERVICES WEEK OF 6-8-20
Let us be diligent in making sure that St. Vladimir's is a place that gives life – not that causes death. We hope that our zeal in following the Quarantine Exit Plan will help our state in our own small way to continue to exit the quarantine and never return!

view entry
( 528 views )