8/4/20, 06:00 PM
Posted by Fr. Gregory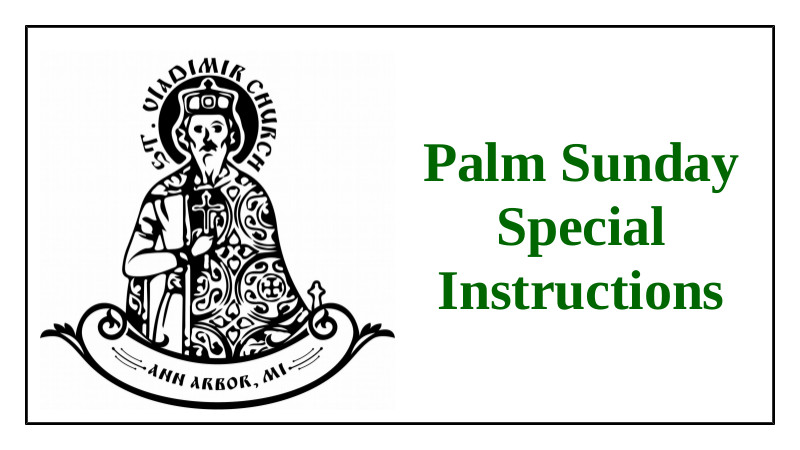 We have debated the best way to distribute palms on the great feast coming up this Sunday. In fact, we advertised earlier that we would deliver them to you. But we got some feedback about that: maybe it is better to have folks come to church and pick up their own palms. That could be done in a very dangerous way. Or – it could be much safer than having the priests visit everyone at home. We are going to do it the safe way! This is an opportunity too for those who have not been able to tithe in person these last weeks to provide their support. To do this safely, we plan the following:
1. Palms can be picked up between 10:00 a.m. and 12:00 p.m. on Sunday, April 12, 2020. If that doesn't work for you
please use this form to sign up to have palms brought to your home
.
2. Drive into the new driveway and go all the way to the end. Turn left into the large paved parking lot. Turn left again to drive down the old driveway. Stop at the entrance to the church. DO NOT GET OUT OF YOUR CAR UNDER ANY CIRCUMSTANCES. You will be given palms and candles (as many as you request within reason) and have the opportunity to make a donation to St. Vladimir's. Volunteers will note be able to make change.
See more information about material support of the parish during the pandemic here
. The candles are for Pascha – so you can light the candle and sing "Christ is Risen!" with us as we usher in the great feast on our live stream at midnight on the feast itself. It seems very unlikely that it would be possible for us to gather in the parish church for the feast.
3. Palms and candles will be distributed by trained volunteers who will be masked and gloved for your protection. We strongly suggest that you also be masked. If you do not have a cloth mask for use when you leave the house please let us know. We will TRY to have these available to give away as the CDC now recommends that everyone be masked when in public. If you can help sew masks please email
info@stvladimiraami.org
.
4. Your interaction with the volunteers should be brief. If you have concerns or questions about anything please reach out to Fr. Gregory for a longer conversation.

view entry
( 653 views )