24/3/20, 12:01 AM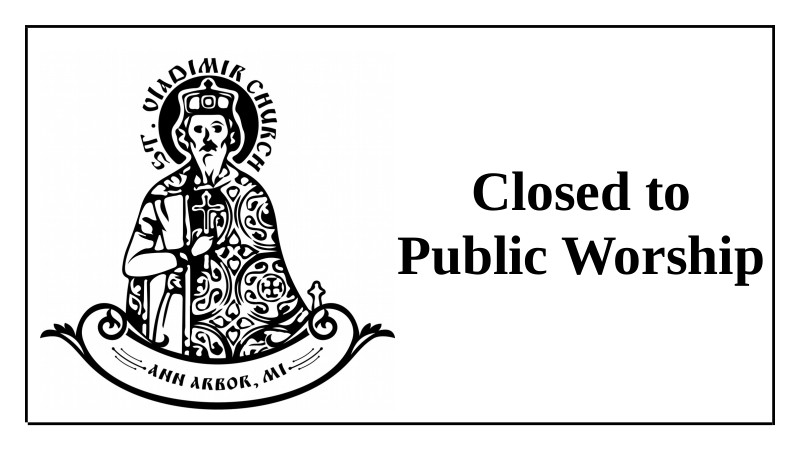 According to the
Executive Order of Governor Gretchen Whitmer
and the
Policy of the Diocese of Chicago & Mid-America
, St. Vladimir's is temporarily closed to public worship due to the coronavirus pandemic. Although we are saddened by this situation, we also understand that in this war all of society – including our St. Vladimir's family – must unite to defeat the virus enemy. All resources must be brought to bear if victory is to be obtained. For us that means isolating ourselves from each other so that we do not in any way endanger those in our community who are at high risk of death from the virus. Most of us are healthy. Most of us are strong. Most of us will be unaffected by the virus. But we have to do our part – we have to fight selfish self interest – and we have to follow the advice of the experts and be obedient to the decisions of our ruling bishop. We thank everyone for their understanding and for their efforts to get us to the point of victory over this invisible foe!
Please
contact me or Fr. Moses
at any time for any spiritual or material support you need during this time of quarantine. With God's help and our sincere effort we can have great hope in overcoming our common societal enemy! Let it never be said that we did not do our part with sincerity and zeal! Let it never be said that we felt ourselves "special" and not in need of taking part in this war! As Orthodox Christians let us be exemplary members of the society in which the merciful Lord has placed us! Let us serve others with valor and Christian Love, whether that service is (for most of us) just staying home and staying safe, or hands-on service of those in need, or other action that we may be called to in service to the eventual victory! All Divine Services will be
broadcast on our Live Streams
– please join us and worship with us just as you would when we gather in the Church, but from your own "desert" that the Lord has provided us during this time of Great Lent. We are pilgrims in this life dear brothers and sisters – the pandemic has just reminded us a bit of this reality. Glory to God for this and for all things!
Fr. Gregory